by Margaret Soden, Office Of Public Works, Farmleigh.
Black and white illustration depicting a maid and lady of the house in The Lady of the House, 1901. By kind permission of Dublin City Library and Archives
Failure to provide a definitive response!
A visit to Farmleigh House is an opportunity to appreciate the elegance of a bygone era. Often, usually about twenty minutes into a tour, it occurs to someone that the flipside of all this elegance is effort. This in turn gives rise to The Servant Question! "How many servants worked in the house; on the estate, how much were they paid, did they have days off"? Do I identify with visitors who ask the "Servant Question"?  Absolutely. Was I in a position to give a definitive answer? No! The fact is there are no papers/ records relating to domestic or estate staff held on site at Farmleigh. Prior to its current iteration as the State Guest House Farmleigh House and Estate was a private residence. In 1873 Edward Cecil Guinness, great grandson of Arthur Guinness purchased the house and seventy-eight-acre estate as a rustic retreat. He proceeded to modify and extend the property and in the process more than doubled it in size. After floating Guinness on the London Stock Exchange in 1886, Edward became one of the richest men Britain and Ireland. Recognised for his philanthropic work and celebrated as one of the best employers in the country he and his wife Adelaide entertained lavishly and well at both Farmleigh and at their townhouse at 80 St Stephens Green Dublin 2.  
An unexpected opportunity and a rookie mistake!
When an opportunity arose to undertake research in April 2020 (every cloud has a ….!)  'The Servant Question' came to mind. The ideal would have been to seek out primary sources however the very incidence that provided the opportunity for research also precluded physical attendance at National Archives and a number of other sites that might have yielded material information. Instead I opted to use online resources and the starting point was the 1901/1911 census. My hope was that one of the returns would divulge the number of servants living at Farmleigh on census night. I searched both census under Guinness, Castleknock, Farmleigh and St Stephens Green and found nothing! I came to the conclusion that family were probably in London on the nights of the census or that they simply hadn't made it on to the digitised records. As luck would have it sometime later I made contact with a local historian Jim Lacey (author of The Barony of Castleknock: A History). I must have alluded to my failure to unearth information from the census as two days later he contacted me to say he had found what I was looking for in the 1901 census. It transpired the return was filed under Iveagh as opposed to Guinness. Rookie mistake on my part! Thank you Jim.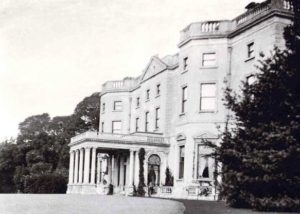 Farmleigh House c 1910
On census night the 31st March 1901 E.C. Guinness (then Baron Iveagh) and his wife Adelaide were in residence at Farmleigh in the company of 35 servants. The return lists; 22 Domestic servants (11 men and 11 women unfortunately there is no breakdown of their respective functions) 1 Housekeeper, 1 Engineer, 4 Livery servants, 6 Stable helpers and 1 Motor Car driver!  Servants living in lodges on the estate would have been the subject of separate returns filed under the employee's surname. "For centuries the discreet, smooth-running domestic machinery of an army of servants was a defining feature of British country houses" 1, The number of servants employed within a household also served to underline the wealth and social standing of their employers, apparently the Lord Lieutenant of Ireland Lord Aberdeen and his wife Ishbel employed 50 indoor staff.  In Ireland, armies of servants were employed against a "backdrop of low wages and a chronic over-supply of labour"2.  As a result, wages paid to domestic staff here were generally lower than those paid to their English counterparts.
What every dictator knows!
Upstairs Downstairs was possibly the first televised series to reflect on the lives of servants with Downtown Abbey taking up the baton in more recent times. While both series were phenomenally successful I imagine a lot of us questioned the relative benevolence with which the servants were treated in both instances. Journalist Poly Toynbee certainly did. To control history by rewriting the past subtly influences present attitudes too: every dictator knows that. Downton rewrites class division, rendering it anodyne, civilized and quaintly cosy. Those upstairs do nothing unspeakably horrible to their servants, while those downstairs are remarkably content with their lot. The brutality of servants' lives is bleached out, the brutishness of upper-class attitudes, manners and behaviour to their servants ironed away.3 While good journalists often take a stance and post their colours to the mast, the opposite is true of historians who try to avoid making judgements. In one of the best opening line of any novel L.P. Hartley stated "The past is a foreign country: they do things differently there."4He was right. While such conditions may seem dreadful to us today, it must be remembered that the work ethic was completely different 100 years ago. Today, the mind-set is that people work mainly to get ahead in the world and to pay for their homes, possessions and activities that bring them pleasure or satisfaction. In Victorian Britain, people worked to survive.5 The idea of working to survive resonated and so I have opted to focus in on the survival of just one servant, a young kitchen maid called Alma. Alma is a composite figure who encompasses the experiences of a number of young women in domestic service in Dublin at the start of the twentieth century. The aim is to consider the nature of her duties, how she spent her leisure time what if any protection she enjoyed before finally recognising the alternative employment opportunities that were opening up to young women like her by the early 1920's. Kitchen maids were at the bottom of a hierarchical chain of service and tended to be recruited locally whereas higher ranking servants, of similar religious background to their employers were more likely to be engaged during the London Season. The 1901 census return for Farmleigh House records thirty-three servants as being English or Scottish born and their religion as Church of England or Presbyterian, the remaining two servants were French and Irish and are listed as Roman Catholic.  
The difference between drudgery and hard work – A uniform!
By 1911 one in ten people were engaged in domestic service. The majority working in middle and lower middle class homes usually as a general servant or maid-of-all-work. …. she has to rise with the lark, for she has to do in her own person all the work which in larger establishments is performed by cook, kitchen-maid, and housemaid, and occasionally the part of a footman's duty, which consists in carrying messages6 By comparison the role of the Kitchen Maid in a country house begins to look significantly more attractive. The difference between gaining employment in a big house or working as a general servant in a middle class house could come down to the price of a uniform. Female Servants had to provide and pay for their own uniforms prior to taking up a position in a big house relatively speaking they were expensive ranging in price between £2.00 and £4.00. To put this in context an unskilled male worker in Dublin c 1904 was earning approximately one pound a week.
The Lady of the House, 1900, by kind permission Dublin City Library and Achieves
Chances are that Alma was educated and literate when she began work in the big house at c 14/15 years of age.  (The Irish Education Act of 1892 made it compulsory for children in urban settings to attend school until they were fourteen years of age). She would have reported directly to the cook, but was also answerable to senior house staff. Rising at 6.a.m, she cleaned the kitchen, lit the fire, prepared the servants breakfast before ensuring the pots and pans to be used that day were set up for the cook.  After that she probably scoured all of the area's leading into the kitchen before preparing the meat and vegetables that featured on the menu that day.  Thereafter she waited table in the servant's dining room throughout lunch and dinner.  As kitchen maid she was one of the first to rise and one of the last to go to bed. Alma's role as kitchen maid was defined by the nature of her tasks. This was typical of most positions in big houses, for instance a Ladies maid would never be found waiting table in the dining room. The rationale for such rigid observation of duties was that it enabled servants changing employment to seamlessly slot into a regime they were familiar with. Unfortunately, these prescriptive roles gave rise to a hierarchical servant construct which did not facilitate upward mobility. Staff were also dissuaded from forming relationships, "Followers are strictly forbidden.  Any member of the female staff who is found to be fraternising shall be immediately dismissed."7. Considerations of this nature dissuaded female staff from regarding domestic service as a lifelong career.  Aside from the housekeeper cook and perhaps ladies' maid, the majority of female staff were younger than 25 years of age. Farmleigh staff bucked this trend, the census return records five of the twelve female servants as being over 25 years of age, all eleven were unmarried. It is not unreasonable to deduce from this that the Baron of Iveagh was a good employer who paid well in order to retain the loyalty of his staff. On top of board and lodgings Alma would have earned in the region of c £15.00/£18.00 a year whereas shop girls could earn up to £25.00 a year in premium stores. Shop work was considered a step above domestic work and therefore a more desirable form of employment.  Retail staff were not at the beck and call of their employers night and day and they had more time off. While there were variations, most domestic staff had one afternoon off each week, starting after lunch and a half day every second Sunday, they got two weeks annual leave each year.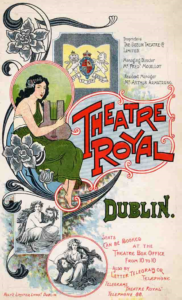 Programme for the Theatre Royal (front cover), January 1906, By kind permission of Dublin City Library and Archive
Afternoons off were spent strolling in the city centre, attending outdoor concerts in St Stephens Green or taking a tram out to Dun Laoire or Howth. Ireland's first cinema The Volta in Henry Street was another option, as were the variety shows staged at venues such as the Theatre Royale in Hawkins Street which could seat up to 4000 people. The issue of domestic service was fraught with ambiguity at a societal and ultimately at a personal level. This complexity appears to relate to the fact that there was no overarching legislation in place to either set perimeters for or protect the rights of domestic servants. Up to the early twentieth century the Master/Servant relationship was paternalistic or even materialistic. The employer set the tone, if you had a good employer who took their responsibilities seriously chances are your employment experience was reasonably pleasant. The opposite is also true I came across a number of recorded interviews with former servants who detailed incidents where employers seriously exploited the master servant relationship. Trade Unions in Britain and Ireland made numerous attempts to enlist domestic servants all of which proved unsuccessful. Unlike factory workers domestic servants worked in smaller units and the relationships they had with each other and with their employers was far more immediate and considerably more complicated. Servants relied on the good will of their employers for their day to day working conditions continued employment and for that all important reference. As domestic servants failed to unionise there were far fewer attempts to legislate for improved conditions. In a strange way the failure of the establishment, (who it has to be said had a vested interest in maintaining the status quo), to improve the lot of their servants eventually backfired. By the second decade of the twentieth century articles and advertisements in Newspapers and women's magazine such as The Lady of the House, (a popular Dublin based magazine aimed at the upper class, but widely read by the middle class) indicate it was becoming more difficult to recruit domestic servants and moreover that potential servants were even beginning to set the terms of their employment! Society experienced seismic changes in the early decades of the twentieth century, thanks in part to innovations in technology, the conception and establishment of the production line in factories and the roles assumed by women during WW1. All factors which contributed to the eventual demise of the legions of domestic servants who had administered to the aristocracy and subsequently the plutocracy in big country houses in England and Ireland. Girls like Alma now had the option to work in a shop, a factory or if she learned to type in an office. The early decades of the twentieth century introduced alternative sources of employment and former servants availed of these options in their droves. So the next time you tune into a period drama featuring a host of domestic staff, watch out for those rose tinted inconsistencies. As for visitors who ask 'The Servant Question', be wary a torrent of 'definitive' information could be heading your way!  
Quotes and References
1. Butlering with the best – beyond the green baize door Sian Ellis | Apr 14, 2020 British Heritage Travel 2. AskAboutIreland 3. What if Downton Abbey told the truth about Britain? Polly Toynbee The Guardian Mon 22 Dec 2014 18.17 GMT 4. The Go-Between Originally published: 1953 Author: L. P. Hartley Country: England Publisher: Hamish Hamilton 5. Low Incomes/Hard Conditions for Victorian Servants 6. Victorian London – Publications – Etiquette and Advice Manuals – Mrs. Beaton's Book of Household Management, by Isabella Beeton, 1861 – Chapter 41 – Domestic Servants 7. Edwardian Life – Servant's Rules   References Lady of the House, 1890-1923 Servants: The True Story of Life Below Stairs. Dr Pamela Cox BBC Two format: Documentaries. 'Domestic servants in Dublin 1880-1920', [thesis], Mona Hearn Trinity College (Dublin, Ireland). Department of History, 1880-1920 Srinivas, Lakshmi. "Master-Servant Relationship in a Cross-Cultural Perspective." Economic and Political Weekly, vol. 30, no. 5, 1995, pp. 269–278. JSTOR, www.jstor.org/stable/4402351. Accessed 25 June 2020 Irish Labour History Society Archives The National Archive of Ireland The National Library of Ireland The National Photographic Archive of Ireland