Farmleigh Sculptures
The Office of Public Works has introduced contemporary sculptures throughout Farmleigh Estate over the years. These permanent sculptures display a range of themes, from celebrating the accession of new states into the EU to the alignment of the planets in 1916. The sculptures also represent a diverse range of Irish and international artists.
A one-page map of the sculptures in Farmleigh Estate is available for download here.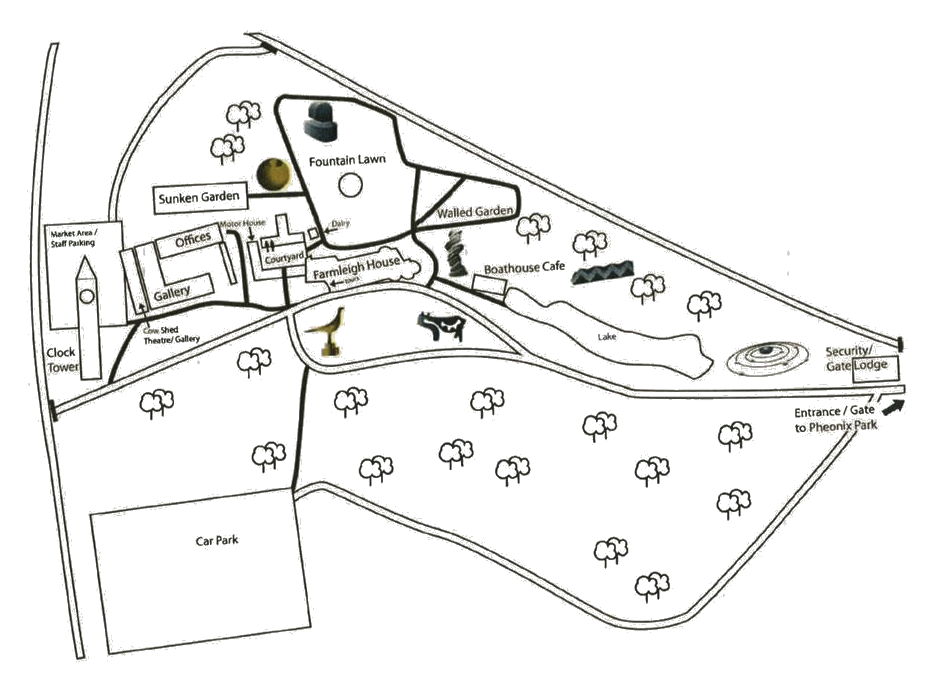 Convergence by Brian King
Convergence was commissioned to celebrate the accession of 10 new states to the EU in 2004. Brian King was an Irish sculptor who has been described by the Irish Times as being "one of the foremost Irish sculptors of his generation". He trained as a sculptor at the National College of Art and Design, in Dublin. His sculptures are now included in many important art collections in Ireland, including those of the Hugh Lane Gallery, Dublin, the Crawford Gallery, Cork, the Office of Public Works and University College Dublin.
Remembering by John W. Wiedman
Inspired by the machine that made milk substitute for Air Force personnel stationed in Newfoundland, Canada, for which that artist affectionately called it the 'mechanical cow'. The artists says of the sculpture:
… what I have in mind for a statement relating to the results of allowing the degradation and extinction of various species still holding on to a place on this planet. Albeit; what I wish to portray will not gush forth with liquid, I would like to make a visual statement about what would happen if we want such things (as COWS) when they were neglected and 'allowed to disappear' from our wonderful planet EARTH.
John W. Wiedman's website is here.
'Buncloch' or Foundation Stone by Mary Reynolds
The garden consists of nine small circular grass ripples, spreading out from the centrepiece, a Wicklow granite bowl, filled with water, the ripple effect of change from the centre. The planets are represented by nine lichen-covered granite boulders placed the way they were aligned on Easter Monday 1916, at the exact time Pádraig Pearse read out the Proclamation.
A Chelsea flower show gold medal winner, Mary has designed gardens internationally for more than seventeen years, including commissions in Kew Royal botanical gardens in London.
Mary Reynolds' website is here.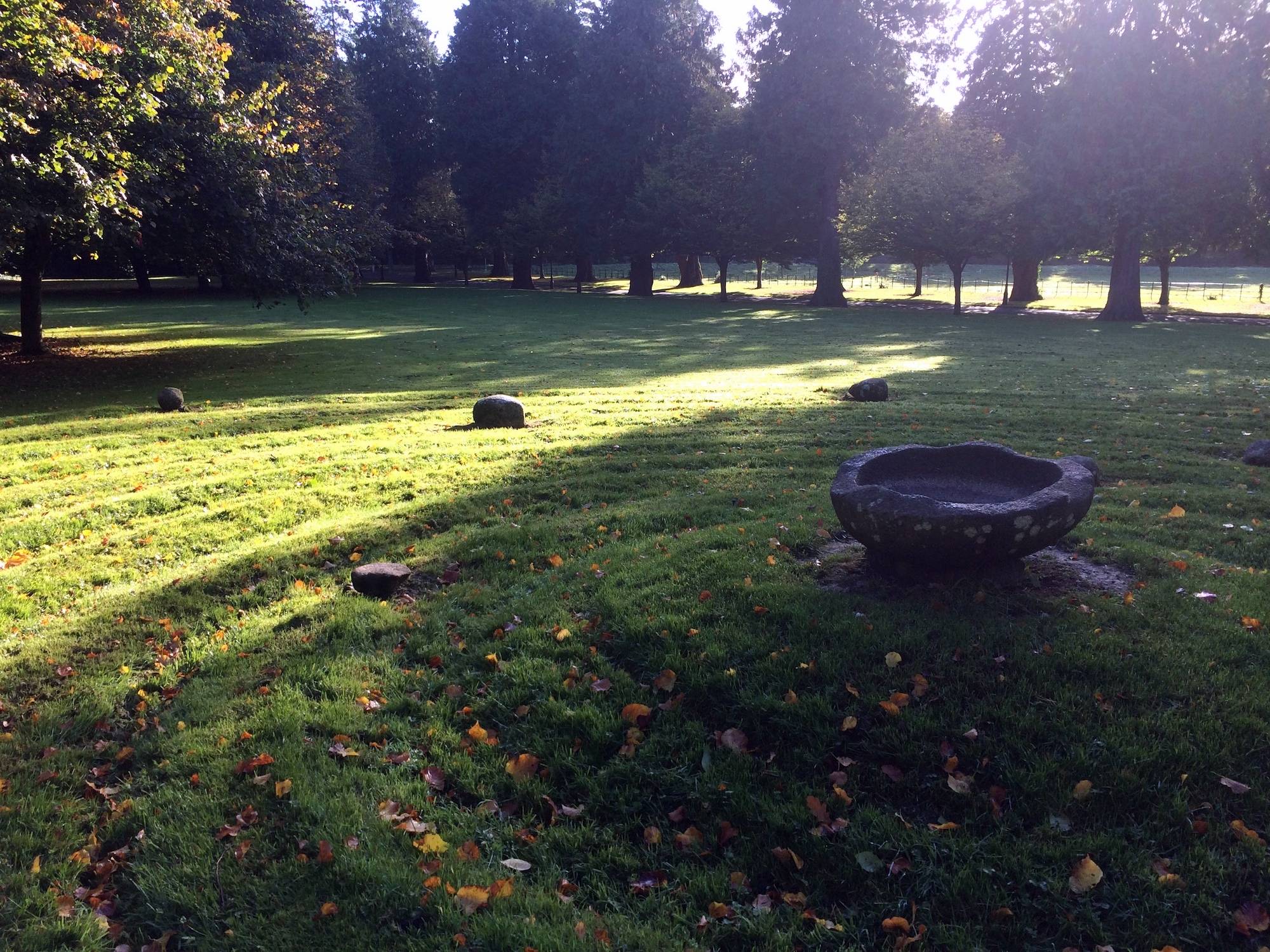 Arch of Nature by Pilar Aldana Mendez
Pilar Aldana Mendez, a Colombian sculptor, has been established in Barcelona, Spain, since 1985. Her forms of expression are small format and the large-scale sculptures, as well as installations. She works with glass, stone, iron and wood. The sculpture is made of two identical blocks of Irish Granite placed in complementary positions.
Pilar Aldana Mendez's website is here.
Hybrid Vigour by James Gannon
James Gannon works with stone and bronze from his studios in Dublin and Roscommon. In 1991 he was awarded the Gold Medal for Granite Sculpture in the Irish Landscape Exhibit in EXPO'91 Osaka, Japan. This piece was inspired by James' grandfather Seamus Mac Raighnaill, who lived in the environs of Castleknock.
'Hybrid Vigour' is an agricultural term describing the crossing of two different pure breeds or varieties, the offspring of which can be more vigorous than either parent. In order to achieve this you need a large undiluted gene pool of differentiated stock from which to select the parents.
James Gannon's website is here.
Untitled by Tony Cragg
Tony Cragg's early work involved site-specific installations of found objects and discarded materials. From the mid-1970s through to the early 1980s he presented assemblages in primary structures as well as in colourful, representational reliefs on the floors and walls of gallery spaces. Cragg constructed these early works by systematically arranging individual fragments of mixed materials, often according to their artificial colours and profiles, so as to form larger images.
Cragg was selected to represent Britain at the 43rd Venice Biennale in 1988, and won the Turner Prize in the same year. He was made a CBE for services to art in the 2002 New Year Honours List, and also won the Piepenbrock Prize for Sculpture in that year. In 2007 he received the Praemium Imperiale for sculpture of the Imperial House of Japan for the Japan Art Association.
Tony Cragg's website is here.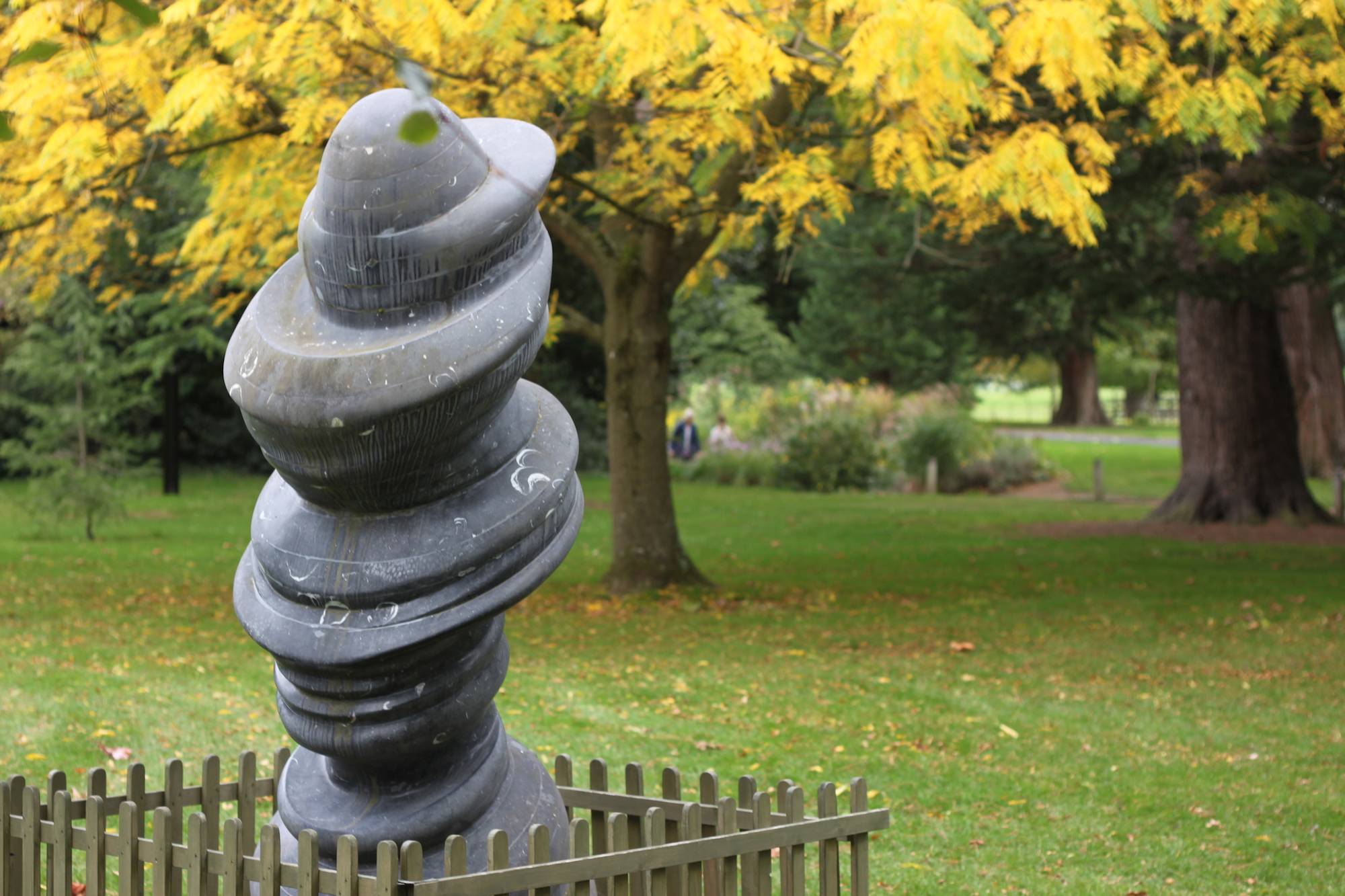 Éan Mór by Breon O'Casey
Breon O'Casey was born in London and is the son of the Irish playwright Seán O'Casey. Breon's works include paintings, sculptures, weaving and crafts.
Éan Mór was unveiled in Farmleigh in 2006. O'Casey sensitively observed the tranquillity of his natural surroundings, and his sculptures are nearly always of an animal, bird, or person.
Breon O'Casey's website is here.