Here at Farmleigh we are delighted to welcome the Kerry Cattle back on site. On Tuesday 7th June six heifers and three calves will move in to their field which we have prepared for them.
For many years Farmleigh was synonymous with the Charolais breed of cattle. Benjamin Guinness, who rented farmland around the estate bred prize winning Charolais and hosted World Forum meetings at Farmleigh.
So when the State took over Farmleigh the tradition of livestock here continued.
The Kerry is widely recognised as Ireland's unique native cattle breed. It is one of the oldest breeds in Europe and was dominant in Ireland up to about the end of the eighteenth century.
In the 1980s the breed was threatened with extinction.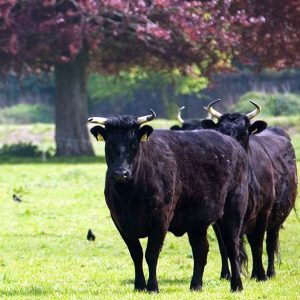 The Kerry cow is black, sometimes with a little white on the udder. She is of dairy type, well- ribbed and fine bone. She has slender white horns tipped with black, though most nowadays are dehorned. She has character, is alert and light on her feet. Cows weigh 350-450 kgs, depending on the type of land on which they are kept. They are equally suited to being one of a big herd or single house cows.
The Kerry cow represents part of our cultural heritage, and over centuries it is the product of human and natural selection under difficult and demanding environmental conditions. The Kerry is a breed unto itself, a breed that has seen the Irish Farmer through hard times. It has the ability to live on marginalised land, to calve without trouble and to winter outdoors happily.
Farmleigh acquired their herd from Muckross in Killarney. Arthur Rose went to live in Muckross in 1910 and he set about establishing a herd of Kerry cattle to which he was devoted. They were his pride and joy. The herd was supervised by a Scotsman, Andrew McLeod. He used to supervise the entire farmyard. Milking was every evening and done by hand by dairymaids. Milk was brought to the dairy and then put in a separator. It was available free of charge to anyone employed on the estate.
Kerry breed can be traced as far back as Neolithic times. In March 2002, Farmleigh started to make inroads into building a herd of Kerry cattle. Muckross House gave us twelve to begin with. Our first calf was born on the 8th January 2003.
It is only fitting that Ireland's premier building should be home to Ireland's premier breed of cattle- the Kerry.