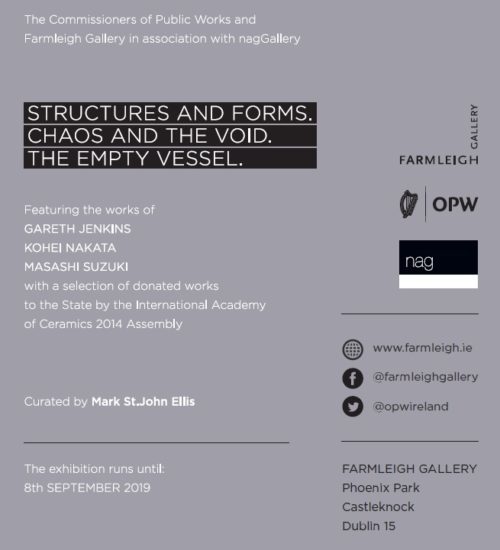 Structures, Forms, Vessels, Chaos and the Void
21 June to 8 September 2019
'Structures, Forms, Vessels, Chaos and the Void' is an exhibition presented by nagOffsite and the Office of Public Works and is on view in Farmleigh Gallery from 21st June to 8th September 2019.
The descriptive title of the new Weaving Paintings by Kohei Nakata describe the action of painting lines in pearl acrylic that appear to weave between each other. The choice of line is in contrast to the hard edged lines and colour in the paintings of Gareth Jenkins. Both surfaces reference materials and texture.
To compliment these abstract wall based paintings a selection from the State collection of ceramics from the International Academy of Ceramics 2014 event in Dublin Castle has been carefully selected to exhibit structures and forms that fell into the categories of organic and chaotic and vessels.
Curated by Mark St. John Ellis of nagGallery, the thought process from these paintings and ceramics led onto the Void as a natural journey from structure and chaos which led to the title of the exhibition – Structures, Forms, Vessels, Chaos and the Void.