When:
3 December 2022 @ 3.00pm – 4.00pm
2022-12-03T15:00:00+00:00
2022-12-03T16:00:00+00:00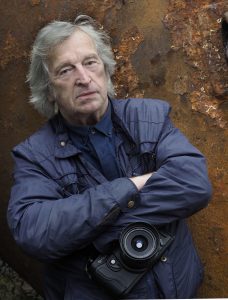 From November 2022 until March 2023, the Office of Public Works in Ireland will present a large-scale 80th birthday retrospective exhibition of over 130 high-quality prints from nearly six decades of the widely diverse output of this renowned photographer. The exhibition will be presented in Farmleigh Gallery, at Farmleigh House in Dublin's Phoenix Park, and will be accompanied by a programme of talks and workshops that will highlight the importance of Bunn's vision as a classical photographer in capturing over five decades of Ireland's cultural, fashion, landscape and environmental history. Beginning with a set of photographs that wonderfully captures the atmosphere of Dublin at the start of the 1970s, at the time of his first arrival in the city, the presentation goes on to highlight examples of his pioneering fashion campaigns that he undertook from his legendary studio in Temple Bar's Crown Alley, which he set up with his late wife, the iconic stylist and boutique-owner Betty Wall. These photographs chart his long and successful working relationship with many of Ireland's then up-and-coming and subsequent leading fashion designers, including John Rocha, Michael Mortell, Louise Kennedy, Philip Treacy and Lainey Keogh, to name but a few.
In all, this retrospective of Mike Bunn's work will present to the public an extraordinarily varied selection of magnificent images that reflect with great sensitivity some of the most important cultural developments that have occurred in Ireland over the past five decades. It will also present new work from Bunn's ever-present and deeply-felt passion for the beauty and mystery of Ireland's natural environment, giving us a unique vision, from a truly gifted artist, of wild treasures that we should protect and celebrate.
Saturday 3rd December 2022; 3pm;
Free Admission – Ticketed event, booking essential through www.eventbrite.ie